A villa holiday offers a fabulous level of independence and space for all the family, but for the ultimate getaway we also offer a selection of private islands.  These islands can be rented for exclusive hire and feature sumptuous accommodations, superb amenities and extensive facilities, all for your own private use and enjoyment.  They are fully staffed and we can tailor make itineraries to suit your preferences.  For the ultimate in luxury, privacy and seclusion, enjoy an escape like no other.
Here are a selection of The Villa Collection's private island rentals.
Coco Privé Kuda Hithi Island, Maldives
Coco Privé Kuda Hithi Island is one of the world's most exclusive private islands for exclusive hire, attracting the most discerning guests from all over the world. Every guest who opts to stay at Coco Privé Kuda Hithi Island are given a totally individual experience, tailor made to the guests requirements.
As a guest of the island, enjoy this 1.4 hectare island which includes a personal host, laundry services, 24 hour dining with all meals prepared by your personal chef, personalised mini-bar with a wide choice of beverages. Click here to see more details or contact us for a quote.
Musha Cay, Bahamas
Musha Cay is an exclusive private island resort in The Bahamas that offers the ultimate in luxury, privacy and seclusion. Over 700 acres will belong to you alone and there are 5 spectacular guest houses each with its own private swimming pool.
There are a total of 12 bedrooms and 13 bathrooms and all the homes feature air-conditioning, WiFi, DVD and CD player, iPod docking stations, cable TV and butler service. Click here to see more details or contact us for a quote.
Necker Island, British Virgin Islands
Welcome to the stunning private island retreat owned by Sir Richard Branson. A private and welcoming sanctuary located in the British Virgin Islands, the accommodation on Necker Island includes nine bedrooms in the Great House and six individual Bali Houses dotted around the island. There is also a bunkroom in the Great House that sleeps up to six children. All rooms have private en-suite bathrooms. There are 17 rooms as well as a bunk room that accommodates six children. The island is 74 acres and sits in turquoise waters surrounded by coral reefs and fringed with beautiful white sandy beaches. Click here to see more details or contact us for a quote.
Calivigny Island, Grenada
The ultimate private island destination, just off the coast of Grenada, Calivigny Island combines opulent accommodation and unparalleled service. Set over 80 lush acres with 2 sandy beaches and sweeping views of the Atlantic Ocean and Caribbean Sea, Calivigny is renowned to be one of themmost exquisite and exclusive private island rentals in the world.
Your own private island resort boasts 5 luxury villas, a fleet of boats, private chefs and a host of thrilling activities for you to enjoy… but also ideal for those who just prefer to soak up the sun and completely unwind. Click here to see more details or contact us for a quote.
Petit St. Vincent, The Grenadines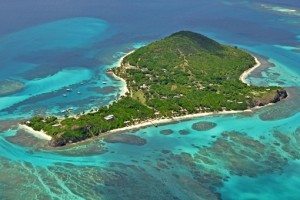 Petit St. Vincent epitomises luxury, privacy and seclusion – a slice of paradise in the Caribbean. The island is located in the southern tip of the Grenadines can be exclusively rented. The island is 115 acres of lush tropical landscape, surrounded by white sandy beaches and the azure waters of the Caribbean Sea. Offering just 22 spacious one bedroom cottages and two bedroom beach villas, guests can enjoy the privacy whilst taking in the spectacular views. Click here to see more details or contact us for a quote.
Tagomago, Ibiza
The paradise of "Tagomago" is one of the few and most beautiful private islands in Spain. Tagomago is perfectly located and only 900 metres from the coast of the jet set island of Ibiza and only a 30 minute boat ride from the beautiful beaches of Formentera. This beautiful island is 600.000 sqm (148 acres) of the Mediterranean and surrounded by turquoise waters. Please contact us for more details or for a quote.
Cayo Espanto, Belize
Cayo Espanto is a private island located off Belize and offers seven villas that can be rented out separately or for the ultimate in luxury and privacy – the whole island can be rented. Guests can enjoy absolute paradise and seclusion, with azure waters, sandy beaches and 5 star service. Click here to see more details or contact us for a quote.